Are you looking for the song titled The Servant of Evil?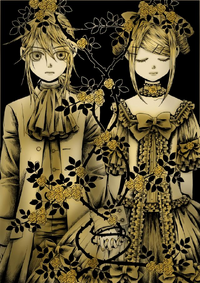 The Servant of Evil
[1]
is an ongoing serial manga originally published by Comic Rush on September 25, 2010. The story is a non-canon rendition of the
song
sharing the same name released by
Akuno-P
. The manga's illustrations are drawn by Nekoyama Miyao. After the release of its first volume,
[2]
the manga was discontinued before being relicensed by Comic Spica in 2014 as a web comic on Pixiv;
[3]
it has since restarted circulation on Denshi Birz on July 31, 2015.
[4]
Appearances
Edit
Haku
Gackpo
Kaito
Len
Lord Gondor
Luka
Mei
Miku
Philandering Uncle
Rin
Yellow Kingdom King
Yellow Kingdom Queen
Conceptualization and Origin
Edit
References
Edit
External Links
Edit
Ad blocker interference detected!
Wikia is a free-to-use site that makes money from advertising. We have a modified experience for viewers using ad blockers

Wikia is not accessible if you've made further modifications. Remove the custom ad blocker rule(s) and the page will load as expected.