Are you looking for the song titled Re_birthday?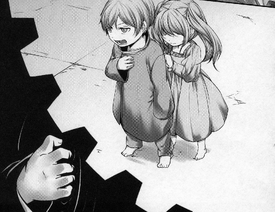 The
Re_birthday
was a
magical
event that could be initiated by a set of
irregular
twins. A powerful and potent spell, it was capable of reformatting multiple individuals and even creating new worlds.
Mechanics
Edit
A set of irregular twins being physically together was typically needed in order to bring about a Re_birthday. The spell was usually activated by saying its name aloud and the user putting their hand on their chest. If done correctly, the Re_birthday could produce an entirely new world with its "reformatting" power, invoking the Heavenly ending. However, if done incorrectly, the Re_birthday could, at least, "reformat" individuals within the user's immediate vicinity, in some cases resulting in the invocation of the Court ending.[1]
Curiosities
Edit
Appearances
Edit
References
Edit
↑

Deadly Sins of Evil: Master of the Heavenly Yard